Monty Meets Mowgli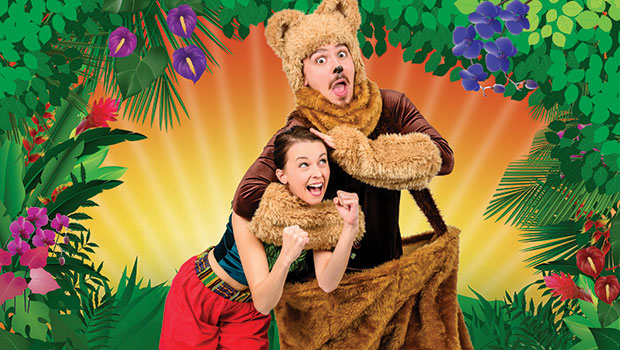 Monty Meets Mowgli
Monty Meets…
The Jungle Book's Mowgli!
'Monty Meets' is me, Monty Mouse, bringing you interviews with the biggest names in showbiz, all from the comfort of my red sofa in the Green Room. Gracing The Montgomery stage in the Easter holidays is one of the most talented man-cubs around, and a beloved character that everybody, old and young, will know from their childhood; Mowgli will be appearing in Immersion Theatre's production of The Jungle Book here in April. I managed to catch up with the big star (literally, he's fast on those swinging vines!) to tell us all about what he's up to.
MONTY: Mowgli, great you could join us on such a chilly day here in Sheffield! Mind you, you may need to rethink that outfit if you're going to survive the Beast From The East. Here's a nice hot chocolate with extra marshmallows to warm you up. Now, where have you come from to meet me today?
MOWGLI: (Between gulps of hot chocolate) I've come from deep in the jungle. I had to swing on a lot of branches and vines to get here!
MONTY: You're constantly running and jumping all around the jungle, you must be very fit! What would your one fitness tip be for our young audience?
MOWGLI: I find I have the most energy when I'm in good company. I love going on adventures with my best pal Baloo the bear, so I say find a friend and go on an adventure! You'll have bags of energy playing together!
MONTY: Now, some of our young cubs have written in with a few questions because they're very eager to know all about you. First up, Molly in Firth Park wants to know what is your favourite jungle animal?
MOWGLI: My favourite animal is the elephant. They are soooo huge but really friendly. Plus, if you're feeling tired you can always catch a lift with them!
MONTY: Ooo elephant rides, that sounds fun. When I was understudying for Timothy Q Mouse in Dumbo, I met a lot of elephants. They do the most enormous poos! Ahem... anyway, moving onto Jordan in Grenoside's question; what do you want to be when you grow up?
MOWGLI: When I grow up I want to be the leader of our wolf pack and protect all the other wolves in the jungle.
MONTY: Well that's not your normal 9 to 5 job! Sounds like you have to be very brave. Are you brave enough to eat bugs?
MOWGLI: I thought I'd hate eating bugs but actually worms are my favourite. They are slimy... yet satisfying!
MONTY: Er… yum. Which song in the show do you most like to sing?
MOWGLI: I most enjoy singing 'No Cares Allowed'. It's about stressing less and having fun which we could all do with sometimes.
MONTY: Indeed! So, in amongst all this fun, Lucy and Amelia in Ecclesall want to know if there are any scary bits in the show?
MOWGLI: Apart from Bagheera's singing?! Hee hee.There are a few bits… Shere Khan is a bit of a mean tiger but with the audiences help we can scare him just as much I'm sure!
MONTY: Hmmm, maybe I can make sure there are plenty of biscuits in his dressing room to keep his hunger at bay. Or prawns! Ha ha! Get it?... tiger… prawns… tiger… never mind. Finally, are there any bits in the show where little mice… I mean, little cubs will be able to join in?
MOWGLI: Absolutely! They will join our wolf pack and learn our pack salute. There is also plenty of clapping and singing involved and of course lots of booing to do too!
Mowgli will appear live on stage in The Jungle Book on Sunday 15th April at 2pm & 5:30pm. There will be an opportunity to meet Mowgli and his friends after each performance.
More from Monty Meets next month when I'll be chatting to singer-songwriter Nick Cope, star of Nick Cope's Family Songbook in the studio on Monday 28th May.
Share This Page
Have Your Say