Gallery Exhibitions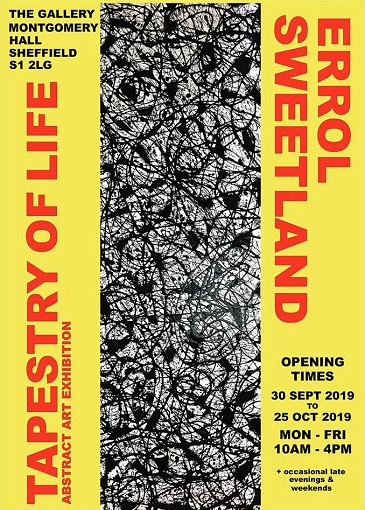 30th September to 25th October 2019
Tapestry of Life
by Errol Sweetland
Errol is a local artist to Sheffield, with a passion for abstract art. Each artwork I create is a journey of exploration and discovery, where pushing the line between chance and intention play a large role in the creative process. Like any journey of exploration, the final destination can not always be predicted but what evolves is a somewhat spontaneous and improvised finished artwork with its own unique energy and quality. But my overriding desire is to encourage involvement and provoke emotional responses and to leave a space where each viewer can let there imagination run free, free to imagine.
Tapestry of Life
My latest exhibition "Tapestry of Life", features a collection of new artworks that have not been exhibited before. Up until recently my artwork focused on pure abstract with no contrived ideas or concepts but this latest collection of paintings are a reflection and comment on the complexity and layered "Tapestry of Life" of the world today.
The Gallery is open Mon - Fri 10am - 3pm and during evening and weekend performances.
If you are interested in exhibiting in our Gallery, please contact us at info@TheMontgomery.org.uk.