Gallery Exhibitions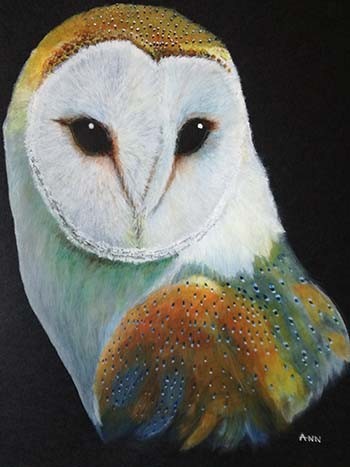 1st February 2020 to 28th February 2020
Creatures & Other Creations
by Ann Sheard
From being a complete beginner just over a decade ago, Ann has developed her artistic skills providing quality paintings in Acrylics inspired by her love of nature.
Available for commissions.
The Gallery is open Mon - Fri 10am - 3pm and during evening and weekend performances.
If you are interested in exhibiting in our Gallery, please contact us at info@TheMontgomery.org.uk.
The Affordable Art Fair
For one month, May 2020, The Montgomery Theatre and Arts Centre will be hosting its first Affordable Art Fair.
What is it?
In the theatre's light, bright gallery space we will hold an exhibition and sales event throughout the month of May selling a range of work by locally based artists. The Affordable Art Fair will make the ownership and appreciation of pieces of art available to all, regardless of their budget.
What artists are we looking for?
We are looking for up to 6 artists to participate and share this month long opportunity, from a range of disciplines and art work. It will be an opportunity for artists to share and display their work, as well as sell their regular work and perhaps take the opportunity to 'clear out' those items that often build up at the back of a studio taking up space!
How does it work?
The Montgomery will undertake marketing of the event through their printed season brochure, website, social media presence and in the press, as well as a specific printed leaflet that will be distributed.

A wall or display space will be allocated in the gallery for each artist.

The Fair /Gallery will be open from 10am to 4pm Monday to Saturday 10am to 4pm by The Montgomery team but at least 1 artist should be present to manage the gallery at weekends.

On at least one Saturday our Ladies in Lavender will be in the gallery to provide home-made cakes and hot drinks, bringing more people into the space.

The work within the Fair should fit within at least one of the following 4 price points

Under £10, Under £20, Under £50, Under £80

All work must be made by artists from within the Sheffield city region.

Each artist will pay a fee of just £80 each to participate in the event, and an additional commission of 10% will be made for sales taken through our box office.

Deadline for expressions of interest:

If you would like to express your interest or to discuss the project further please contact The Montgomery's Director, Theresa Keogh, on Theresa.keogh@themontgomery.org.uk or 0114 272 0455. The deadline for expressions of interest is Saturday 29th February.