Your Visit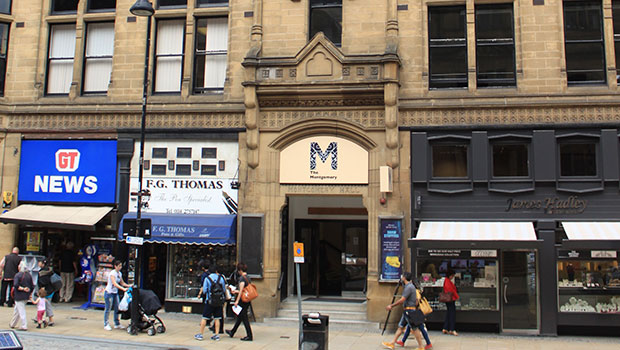 We Have been asked to share the following announcement with you:
An important update from Diva Productions
Due to the ongoing National issues with COVID19 and the relative uncertainty regarding the reopening of theatres and town halls across the country (despite the recent announcements made by the Government) we have made a decision to postpone and reschedule our planned Yorkshire tour of Rita, Sue and Bob Too to 2022.
Whilst we are optimistic that theatres will be operating again by the end of this year, we believe this is the right thing to do for the safety and well being of our cast, crew and audiences. We very much look forward to welcoming everyone to see this hilarious show in October and November 2022 and believe we will be able to present the show without having to compromise any aspect of the production due to social distancing or other limiting factors. We are grateful of the continued support of the venues for enabling the changes to be made. Existing customers with tickets will be notified by the venue of the rescheduled tour dates in due course. We ask at this busy time that you do not contact the venue directly and allow them to contact you within the next couple of weeks.
We thank you for your understanding and we look forward to seeing you next year!
Team Diva
#RSABT2022
#wearediva
4th August 2020
Statement for The Montgomery theatre and Arts Centre
The impact of Covid-19 on The Montgomery Theatre and Arts Centre has been significant and continues to affect our operational ability therefore we will not be able to reopen until spring 2021.
The Montgomery does not receive any regular external funding: we are wholly reliant on earned income. Invariably, the impact of coronavirus has considerably affected our ability to operate commercially. As a direct result of this we have entered into a period of redundancy consultation with our staff, with 57% of permanent roles at risk.
The Montgomery was awarded a grant as part of Arts Council Emergency funding which has greatly enabled our short-term survival. We now need to ensure the long-term future of The Montgomery. We have explored all other options, seeking to protect our workforce for as long as possible, however this will now be critical in ensuring the survival of The Montgomery.
Inevitably, this is a very difficult time. We have an extraordinary team of dedicated and committed people. Our priority now is to provide support and duty of care to all of our staff team.
As you can imagine we are currently processing a lot of refunds. If you have a ticket for any production during this period our box office team will be in touch with you shortly.
We thank everyone for their ongoing support during this difficult time
COVID-19 Update - 1st April 2020
Dear friends,
We hope you are taking care of yourselves during these challenging times.
Given the recent government guidance, we have taken the decision to extend our closure of The Montgomery Theatre and Arts Centre until 31st August 2020.
For those with tickets to upcoming shows:
We will contact all existing bookings for this period. You will be able to choose any of the following options: a refund, credit or donation. Credit will be available to use on any professional children's show at The Montgomery. As much as possible we are seeking to reschedule productions, however no existing booking will automatically be transferred to a future/rescheduled show. For any community production, we will be processing any tickets booked through us. If you bought your ticket through a community company they will contact you directly.
As you can imagine we are currently processing a lot of refunds therefore we ask that you bear with us: please don't contact us, we assure you that we will contact you shortly.
We want to say a big THANK YOU to all of those of you who have donated to us during this difficult time. For those of you who would like to support The Monty, you can donate here.
We hope you all are safe and well and we look forward to seeing you at The Monty in the near future.
Find Us
The Montgomery Theatre & Arts Centre, Surrey Street, Sheffield, S1 2LG
Admin Office Line: 0114 272 0455
Box Office Line: 0114 327 3456
The Box Office is located on the first floor. Our opening hours are Mon – Fri 10am – 3pm and 1 hour before each performance.
Box office will also open for Ladies in Lavender (usually the first Saturday each month - see What's On page for updates) 10am - 1pm.
The Admin Office opening hours are Mon – Fri 9am – 4pm.
We are in the heart of Sheffield city centre, just up the road from the Central Library, and adjacent to the Town Hall.
Access



Due to the nature of our lovely but very old building, please note that disabled access is not available at present. We are developing a long term plan to make the building more open, more accessible and better suited to the needs of today. The refurbishment of The Montgomery is a massive project and the team are working hard to complete the background work that is necessary to do before we are in a position to apply for capital funding.
Thanks to the support from The Big Lottery Fund and in partnership with Sheffield Philharmonic Chorus, The Montgomery now has a motorised stair climber installed. The stair climber gives access to audience members who can't quite make all the stairs. Use is restricted to 2 persons per show (subject to availability) and must be booked NO LATER THAN 1 WEEK in advance prior to your visit 0114 272 0455. Once booked, please arrive at least 60 minutes before the performance starts to ensure we can get you seated in time.
Bar
Our bar is situated in the Gallery and run by Sheffield Theatres, open for pre-show and interval refreshments. Please note this is a CASH ONLY bar.
Getting Here
Public Transport
The nearest tram stop is Cathedral, within 5 minutes' walk. With the Cathedral behind you, walk up Fargate (the pedestrian shopping area). At the top of Fargate, turn left onto Surrey Street. The Town Hall will be on your right hand side. The entrance to The Montgomery is on the left, past the GT News and pen shop.
Buses stopping at the Peace Gardens or Arundel Gate interchanges are within 5 minutes' walk.
Sheffield train station is approximately a 10 minute walk from the venue. Exit the station, and walk immediately uphill with the silver water feature on your right hand side. Carry on straight up the hill through the Sheffield Hallam University campus. Curve to the right at the top of the hill, to cross the road at the Millenium Galleries. After crossing, turn right, and follow the ramp as it bends left up onto Surrey Street. The Central Library main entrance will be on your right. Carry on straight ahead on Surrey Street. The entrance to The Montgomery is on the right, past the sandwich shop and the jewelers.
By Car
Access to Surrey Street is via Arundel Gate, onto Norfolk Street. A the top of Norfolk Street, turn right. The Montgomery is on the right side, facing the Town Hall.
Parking
A loading bay is available immediately in front of the theatre, and hourly on-street parking is available.