Monty Meets The Nutcracker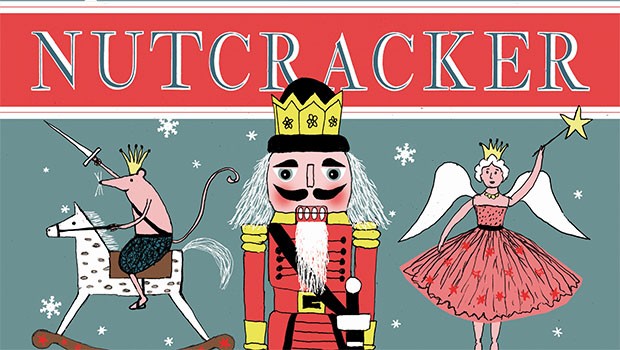 Monty Meets The Nutcracker
'Monty Meets' is me, Monty Mouse, bringing you interviews with the biggest names in showbiz, all from the comfort of The Monty Green Room. Our big sparkly Christmas show, The Nutcracker by Story Pocket Theatre, arrives in town this weekend, and it's a pleasure to be joined by the title character, Mr Nutcracker himself!
MONTY: Lovely to have you here as part of our Christmas celebrations. We have lots and lots of excited children waiting to meet you! Some of them have been busy writing in with their questions for you, so to start, Isabelle in Rotherham would like to know the million dollar question, what is the Nutcracker's favourite nut?
THE NUTCRACKER: I don't have a favourite, I have a nut allergy.
MONTY: Haha! What a strange career you have chosen for yourself! Mrs Lockwood and her brood would like to ask, do you believe in magic?
THE NUTCRACKER: I only exist because of the magic of make believe.
MONTY: I'm sure they'll be lots of magical moments in the show then! Now, we always have someone who likes to ask this question: Are there any scary bits in the show? And are there any bits that the audience can join in with?
THE NUTCRACKER: It's more exciting than scary. And yes, they must all make-believe for the show to happen!
MONTY: That does sound magical. Have you ever tried to eat a sugar plum?
THE NUTCRACKER: No, she's a good friend of mine.
THE MONTY: It'll be a long drive from the land of make-believe to The Montgomery, so which Christmas song will be played most in the tour van?
THE NUTCRACKER: The Fairytale of New York.
THE MONTY: Oh good, a nice jolly one. Alex in Handsworth asks what are you hoping will be waiting for you under the tree on Christmas morning?
THE NUTCRACKER: A big sack full of Christmas cheer!
MONTY: What's your favourite thing on the Christmas dinner table?
THE NUTCRACKER: Crackling.
MONTY: Oh yes, very good.
THE NUTCRACKER: Say, Monty, have I seen you somewhere before?
MONTY: Oh, perhaps, I've dabbled in a bit of TV, the odd film, a theatrical appearance here and there… I actually played The Mouse King for the Moscow Ballet back in '94… you know, if your Mouse Queen would like a day off on Christmas Eve, I could step in, I'm very obliging like that…
See The Nutcracker here Sun 23rd and Monday 24th December! Watch the trailer and find out more here.
.
Share This Page
Have Your Say