Monty Meets Mrs Chickweed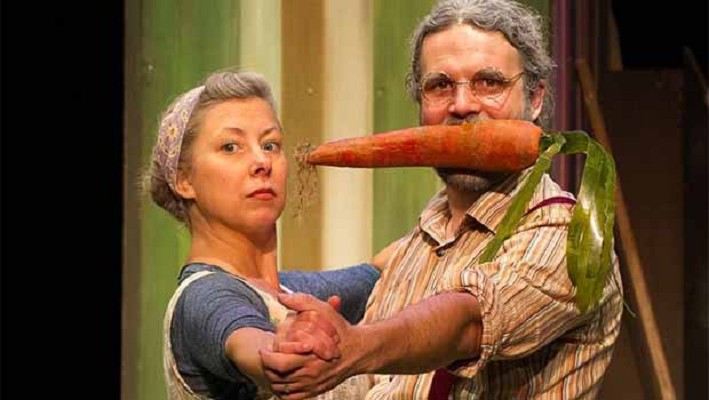 Monty Meets Mrs Chickweed
'Monty Meets' is me, Monty Mouse, bringing you interviews with the biggest names in showbiz, all from the comfort of The Monty Green Room. Our autumn show, Stuff and Nonsense's The Enormous Turnip, is going to be a rollickingly good one, and I am very excited to be joined by one of the stars of the show today, Mrs Chickweed herself!
MONTY: Thanks for coming up from the garden to visit me today, Mrs C. We're very exciting to see just how enormous this turnip is going to be on stage. Now, I have some questions for you from our young audience. Firstly, from Bella in Crookes, how many characters are there in the show, and who is your favourite?
MRS C: There are two human characters in the show and 3 animals. My favourite is scruffy the dog as he is funny and helps so much with the problems that happen.
MONTY: Just as long as there aren't any cats... or birds of prey... What's the weirdest thing you've ever eaten?
MRS C: A drink with the texture of frog spawn I bought in a corner shop.
MONTY: Ugh! What's the strangest food you've ever grown?
MRS C: Carrots. I know that is not usually strange but mine grew up all joined together like best friends.
MONTY: Wow, sounds like you're very good at growing strange-looking vegetables! I believe that Mr Chickweed is very good at day dreaming about travelling the world, where in the world would he like to go?
MRS C: Africa would be his favourite I would guess, but you will have to ask him!
MONTY: I wonder what sort of strange vegetables they have there. Next I have a question from Molly in Hillsborough, she'd like to know if there are any scary bits in the show?
MRS C: No. There are some great surprises though.
MONTY: Oh good, I like surprises. As long as it's not a pet cat. There was a cat in the last show, ANiMALCOLM; it chased me all around the theatre! Finally, are there any bits in the show that the audience can join in with?
MRS C: Oh yes there are. We actually need lots of helpers and we can't do the show without you all!
If you'd like to help the Chickweed's solve the problem of having such an enormous turnip growing in their garden, and would like some fun along the way, then join us on Saturday 6th October! Watch the trailer and find out more here.
Share This Page
Have Your Say