Monty Meets Nick Cope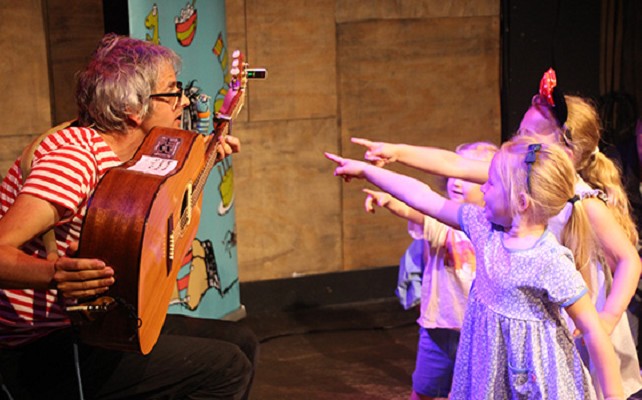 Monty Meets Nick Cope
'Monty Meets' is me, Monty Mouse, bringing you interviews with the biggest names in showbiz, all from the comfort of my red sofa in the Green Room. Heralded by comic Stewart Lee as the "Indie-surrealist kids' entertainer", I am very excited to be joined by singer-songwriter, Nick Cope!
MONTY: Nick, great to have a chance to chat to you ahead of your sold-out performance in just a few weeks' time. You have a large following of little and big people alike, so we're very excited to have you perform to us here in Sheffield! The atmosphere is going to be electric; it'll be like Glastonbury but with dry feet and proper loos. For now I'd like to take you back to the beginning, if I may. How old were you when you first picked up a guitar to play?
NICK: I must have been about 14; my dad had an old acoustic that didn't really get played much and I started having a few lessons. I wanted to play punk songs but the teacher in the village only knew songs about goats and farmers!
MONTY: More 'Old Macdonald Had a Farm' than 'Anarchy in the UK?' From there you've toured all over the world, where's been the best place you've played?
NICK: That would have to be Hong Kong. Each year, if I'm lucky, I get invited to perform at Clockenflap, an amazing music festival on Hong King harbour.
MONTY: Sounds pretty rock n roll! Having toured to so many foreign places, Martha in Athelstan would like to know what's the weirdest thing you've ever eaten?
NICK: I don't eat meat so that rules out strange animals but I did eat a snail once which was given to me but Raymond Blanc (it's a long story from my waitering days).
MONTY: Mmm, nice with a bit of garlic and pepper… I mean, eeew! And when you're not eating snails prepared by famous chefs, who would you say is the most interesting person you've ever played with?
NICK: My grandson. He's nearly 3 and already a wonderful performer, we have played a couple of shows together and he is amazing! Hopefully he will be making a special appearance at The Montgomery.
MONTY: And we've got a video to share of the talented tot live on stage! I saw you at the Edinburgh Fringe Festival last year, there was the most tremendous stage invasion from a storm of budding young musicians. It was fantastic! Will there be any bits to join in with this time?
NICK: There most certainly is! But you'll have to wait and see.
MONTY: Oh goody. You have written so many songs, but which song in your show is your most favourite to sing?
NICK: It changes from week to week but at the moment it's "Have you heard about Hugh?" A song about a hedgehog stuck on the A32.
MONTY: Poor hedgehog. And talking of unfortunate animals, Alexander in Birley is anxious to know whether the soap eating dog is still going strong? Has he learnt any new tricks?
NICK: Not sure about that one, Monty, the last thing I heard he was living in Eynsham just outside Oxford, they do have a carnival each year so maybe he entertains the villagers with his bottom bubbles…
MONTY: I'd love to see that, perhaps they could turn it into a contest for all the local dogs to take part in. Eynsham's Best Bottom Bubble Burper! Last question, but certainly not the least, have you ever thought about writing a song about a mouse?
NICK: I have a song about a hamster but unfortunately the hamster passes away. It's very sad, Monty, I think it may upset you so I won't be singing that one.
MONTY: Oh. Maybe it's time to get cracking with a No.1 hit about a mouse then? I could be your muse! I've worked with Cumberbatch you know…
Nick Cope performs live at The Montgomery on 28th May. Tickets have sold out but Nick will be touring to other venues in the UK this summer, find tour dates here.
More from Monty Meets next month when I'll be chatting to the cast of David Baddiel's ANiMALCOLM about their show here on Sunday 1st July.
Share This Page
Have Your Say