Gallery Exhibitions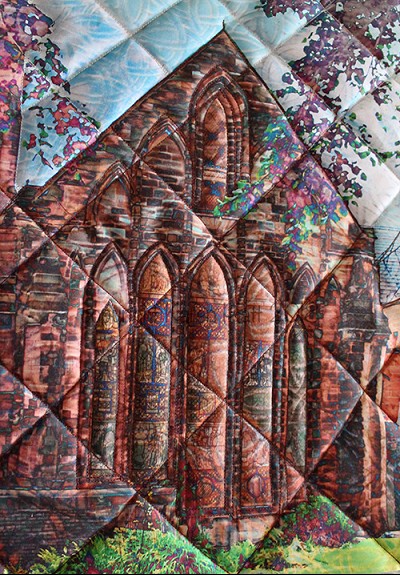 February 2019 Exhibition
25th January to 28th February
KAREN PLATT
Karen Platt is a multi-disciplinary artist. Her work transcends boundaries and encompasses painting, printing, digital manipulation, textiles, fabric design, hand embroidery and stitch, hand dyeing, hand knitting and quilting.
In the past she has also explored ceramics and is interested in the cross-over between disciplines. For example paint on fabric, textiles and mixed media in painting.
Her current work is inspired by her travels and her interest in history and heritage. It involves using her photography to produce unique work that reflects her interests. She taps into sources of inspiration to use in new ways in her work. A series of quilts were produced for her stand at The Festival of Quilts 2018.
Her digital work is a chance to experiment and reveal hidden layers and produce large bodies of work. She recently created a series of over 200 Tunisian door prints and images of Sheffield.
Experimentation and the need for ongoing creative development underpin all aspects of her work.
Karen has a background in education. She creates online courses for those interested in developing digital work, creating quilts, textiles and more. She also enjoys delivering lectures and workshops.
In the past Karen created and wrote a series of gardening books and nature is still a big influence on her work. All work is for sale on her website. Karen regularly blogs on all topics that interest her, showing inspiration and progress of current work.
www.karenplatt.co.uk
@yarnsandfabrics
www.facebook.com/KarenPlattQT
The Montgomery Gallery is situated on the first floor and is open for public viewing Monday - Friday 9am - 4pm, and during theatre performances. We work in partnership with local art studios including 35 Chapel Walk and Yorkshire Artspace to offer local artists the opportunity to exhibit their work for free in a city centre space.
If you are interested in exhibiting your work at The Montgomery, please get in touch with us here.