Gallery Exhibitions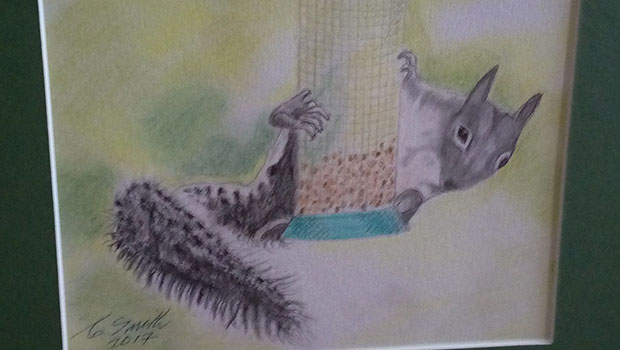 The Montgomery Gallery is situated on the first floor and is open for public viewing Monday - Friday 9am - 4pm, and during theatre performances. We work in partnership with local art studios including 35 Chapel Walk and Yorkshire Artspace to offer local artists the opportunitiy to exhibit their work for free in a city centre space.
If you are interested in exhibiting your work at The Montgomery, please get in touch with us here.
MARCH EXHIBITION
Christine Smith
in association with SRSB (Sheffield Royal Society for the Blind)
26th February - Thursday 29th March 2018
Christine is a client and supporter at SRSB and is a prolific artist, working mostly in coloured pencil and pastel. She can turn her hand to producing pictures of animals, people, flowers and scenery.
When Christine Smith was recuperating from surgery for a brain tumour, she was introduced to an artist who encouraged her to draw. Little did she realise at the time, how this rekindled passion would develop into a prolific collection of drawings and lead to exhibitions of her work.
Surgeons had to remove Christine's left eye and rebuild her face, and she has been left with no sense of smell or taste. "My art keeps me going," she explains. "I am passionate about art and drawing has helped me to rebuild my life."
"I would like to donate the profits from the sales to the Sheffield Royal Society for the Blind (SRSB) and Macmillan, as both organisations have given me a great deal of support," says Christine.