Gallery Exhibitions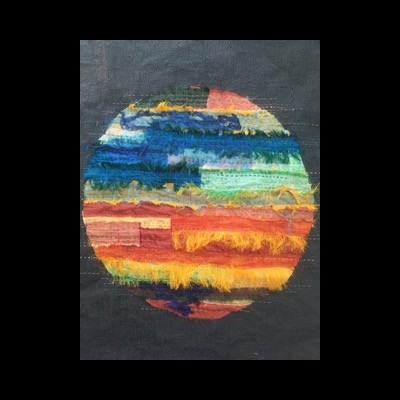 November & December Exhibition
26th October - 3rd January
Helen Moyes & Gil Thurley
Artsist Statement: Gil Thurley
My name is Gil Thurley and I am a Sheffield based textile artist.
I work in both 2D and 3D. My 2D work is generally inspired by nature and the local environment. It is often collage work using sourced and made fabrics, and embellished with both machine and hand embroidery.
I also make various items of clothing, using re-cycled or unusual fabrics.
Artist Statement: Helen Moyes
The world around me provides inspiration, especially time spent in my
garden and the Peak District. A passionate up-cycler, I collect and keep
small pieces to use again.
I still use the sewing machine I was given at 16, in my Sheffield attic
studio.
As a qualified teacher, I love to pass on creative stitch skills to others,
encouraging play and experimentation.
Please get in touch if you would like to see more, discuss a commission,
or know about creative workshops/events or gift vouchers.
The Montgomery Gallery is situated on the first floor and is open for public viewing Monday - Friday 9am - 4pm, and during theatre performances. We work in partnership with local art studios including 35 Chapel Walk and Yorkshire Artspace to offer local artists the opportunity to exhibit their work for free in a city centre space.
If you are interested in exhibiting your work at The Montgomery, please get in touch with us here.